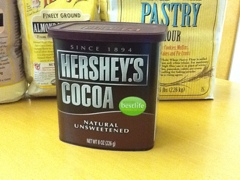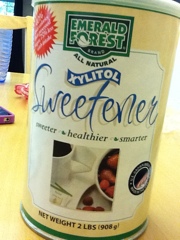 1 cup (2 sticks butter)
1cup Xylitol
2 eggs
1 cup buttermilk (1 c. Half and Half with 2 tsps. Vinegar)
2 tsps. Vanilla
3/4 c. Vital wheat gluten flour
1/2 c. Whole wheat pastry flour
1 c. Almond flour
1.5 tsp. Baking soda
1/2 c. Hershey's Unsweetened Cocoa Powder
1/2 tsp. Salt
1/2 c. Boiling water
Prepare two 9 inch round cake pans by buttering, flouring and putting wax paper at the bottom of each pan. Preheat the oven to 350 degrees F.
Cream butter and xylitol until fluffy in mixer. Add eggs and vanilla, mix well. Add buttermilk. Slowly add in flours, salt, chocolate and baking soda. Lastly add in hot water to dissolve any chunks. Mix until smooth and slightly fluffy. Add half of the cake batter to each of the cake pans and spread evenly. Put aside while you make the cream cheese filling.
Cream Cheese Filling
1- 8 oz. Package cream cheese
1 egg
1/3 c. Xylitol
Dash salt
1 c. Chocolate chips ( I use 2- 3.5 oz bars of 85% or more chocolate such as Valrhona or Green&Blacks)
Cream cream cheese, egg, and xylitol in mixer. Mix well, until uniformly creamy. Add salt and chocolate chips. Spoon half of the cream cheese mixture into each cake pan. Gently smooth the spooned mixture into the cake batter, spread evenly.
Bake at 350 degrees F for 35 minutes. Remove from oven and cool before removing from pans.